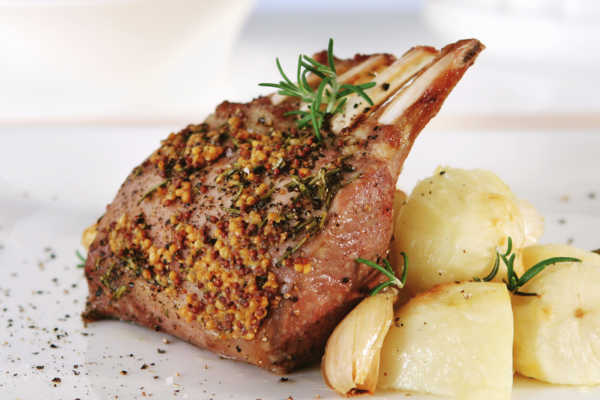 Lamb rack with rosemary & mustard
Easy - 10 Min
style

Dish type:

Lunch & Dinner
poll

Difficulty:

Easy
access_time

Preparation time:

10 min
timer

Cooking time:

30 min
place

Region:

France
Preparation
Enjoy your succulent Roasted Lamb Rack with Rosemary and Mustard!
Ingredients:
Pastores lamb rack (8 chops), frenched
3 cloves garlic, minced
2 tablespoons fresh rosemary, chopped
2 tablespoons olive oil
1/2 teaspoon salt
1/4 teaspoon black pepper
Direction:
Begin with defrosting the Pastores lamb.
Preheat oven to 400°F (200°C).
In a small bowl, mix together garlic, rosemary, olive oil, salt, and black pepper to create a paste.
Rub the paste all over the lamb rack, making sure to cover the meat evenly.
Place the lamb rack in a roasting pan and roast in the oven for 20-25 minutes for medium-rare doneness, or until the internal temperature reaches 125°F (52°C).
Remove the lamb rack from the oven and let it rest for 5-10 minutes before slicing and serving.
Optional: Serve the lamb rack with a side of roasted vegetables, such as potatoes, carrots, and Brussels sprouts, for a complete and delicious meal.