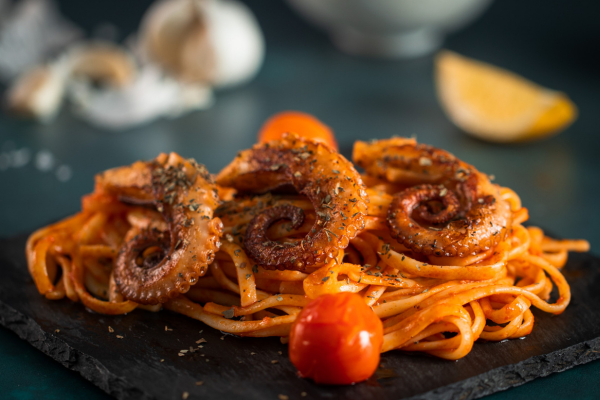 Linguini Pasta With Octopus & Tomato Sauce
Medium - 10 Min
style

Dish type:

Pasta & Rice
poll

Difficulty:

Medium
access_time

Preparation time:

10 min
timer

Cooking time:

30 min
place

Region:

Italy
Preparation
This linguini pasta dish with octopus legs is a flavorful and unique seafood pasta that will impress any seafood lover.
Ingredients:
Pastores lamb rack (8 chops), frenched
3 cloves garlic, minced
2 tablespoons fresh rosemary, chopped
2 tablespoons olive oil
1/2 teaspoon salt
1/4 teaspoon black pepper
Direction:
Begin by defrosting the pre-cooked octopus legs.
Cook the linguini pasta according to the package instructions, until it is al dente.
In a separate pan, heat the extra-virgin olive oil over medium heat.
Add the minced garlic, tomato sauce and sauté for 1-2 minutes, or until fragrant.
Once the octopus legs are defrosted, remove them from the packaging and cut them into small pieces.
Add the chopped octopus legs to the garlic and olive oil mixture and sauté for 2-3 minutes.
Drain the cooked linguini pasta and add it to the pan with the octopus and garlic mixture.
Toss everything together until the pasta is coated in the sauce.
Season the pasta with salt and pepper to taste.
Serve the linguini pasta with octopus legs hot, garnished with chopped fresh parsley.
Ingredients
Quantity
Price

Linguine 500 GR

This product is not available in this quantity

AED8.57

Neopolitan Sauce Pomodorina 2.55KG / Tin

This product is not available in this quantity

AED42.86

Kalios Greek Olive Oil 02 Balance 250 ML

This product is not available in this quantity

AED28.48
Products of the recipe