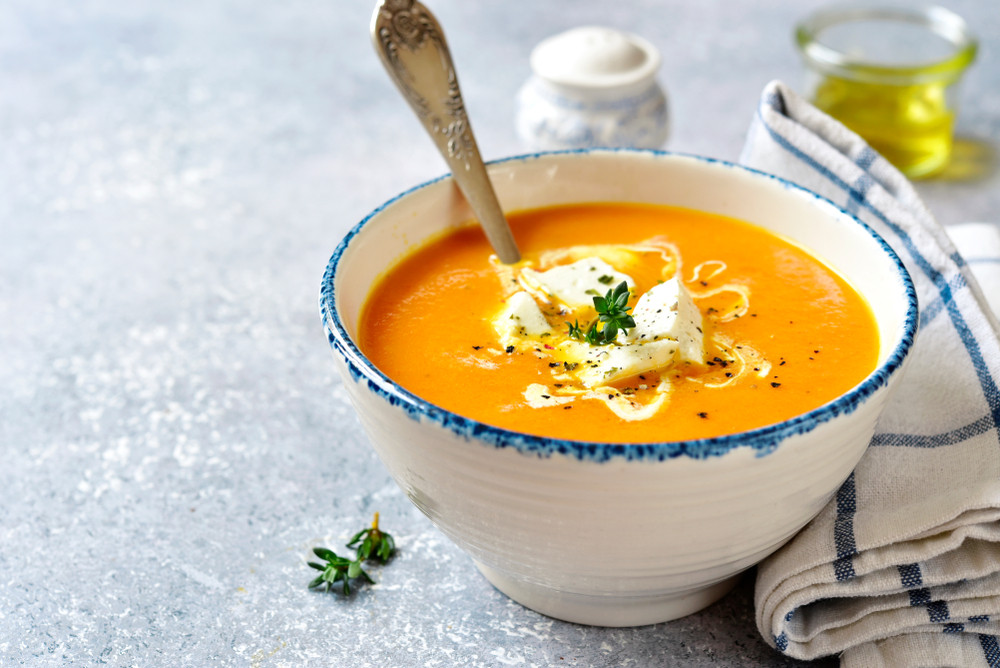 Pumpkin Soup
Easy - 20 Min
style

Dish type:

Salads & Healthy
poll

Difficulty:

Easy
access_time

Preparation time:

20 min
timer

Cooking time:

20 min
place

Region:

Dubai
Preparation
Ingredients:

- 1 Sliced Onion

- 2 Pink Garlic Cloves

- 1 Cup Water (250 ML)

- Bordier Unsalted Butter

- French Bread Roll

- Salt & pepper

Steps:
1. Cut the pumpkin into big chunks, slice the onions & garlic

3. Add the chunks of pumpkin, sliced onion, garlic, and water to a pot. Boil the ingredients without covering the lid on a medium flame and continue until the pumpkin is tender. You can check it with a butter knife

4. Blend the ingredients in a blender until it is smooth.

5. The soup is ready, pour it into the soup bowl, drizzle over a bit of flory cream, and sprinkle with salt & pepper.

6. Garnish it with a summer mix salad along with crusty bread on the side!
Ingredients
Quantity
Price

Pumpkin Muscade / PC

This product is not available in this quantity

AED175.00

Out of stock

Unsalted Bordier Butter 125 GR

This product is not available in this quantity

AED16.00

Flory Whipping Cream 35.1% Fat 1LTR /PC

This product is not available in this quantity

AED25.00

Out of stock

Onion Yellow +/- 500GR

This product is not available in this quantity

AED18.00

Out of stock

Pink Garlic +/- 250 GR

This product is not available in this quantity

AED27.00

Out of stock

Summer Savory Microgreens100g / pack

This product is not available in this quantity

AED15.00

Bread Roll Seeds And Cereals 45g (6PCS)

This product is not available in this quantity

AED19.00
Products of the recipe