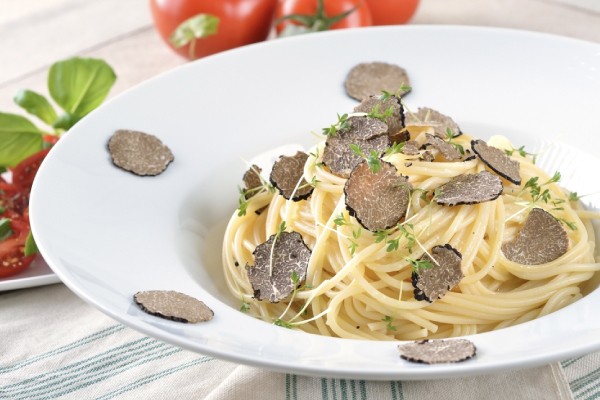 Spaghetti with cheese au truffles
Easy - 10 Min
style

Dish type:

Lunch & Dinner
poll

Difficulty:

Easy
access_time

Preparation time:

10 min
timer

Cooking time:

8 min
place

Region:

France
Preparation
• 1 packet of Delverde pasta (linguine)
• ½ cup Parmesan cheese
• ½ salted butter bar - Bordier
• 1 fresh black truffle for flavoring
• Fresh Thyme 100g
• Salt to taste
• Pepper to taste

• Extra virgin olive oil


Steps:

1)Bring a large pan of water to the boil, salt it generously (1 tbsp) and then cook the pasta until al dente. (Usually 1 minute less than the packet suggests)
2) Meanwhile grate the parmesan and set to one side.
3) Add the butter to a heavy based skillet and let it melt over a low heat.
4) Once the butter has melted grate in about ¾ of the black truffle.
5) Stir well and then remove from the heat.
6) Reserve ½ cup of the pasta cooking water and then drain the pasta.
7) Stir the pasta into the butter, along with ¼ cup of the reserved water. Stir gently over a low heat until everything is combined. Add more water if it starts to feel sticky.
8) Add the parmesan and serve immediately with fresh parsley garnish and more black truffle.

9) drizzle some olive oil to taste.
Ingredients
Quantity
Price

Delverde Spaghetti Pasta 500g

This product is not available in this quantity

AED11.00

Grana Padano Reserva 250g

This product is not available in this quantity

AED25.20

Fresh Thyme 100g

This product is not available in this quantity

AED12.50

Out of stock

Salted Butter 250g / PC

This product is not available in this quantity

AED40.00

Fresh Black Summer Truffle +/- 40g

This product is not available in this quantity

AED63.00

Fleur de Sel With Penja Pepper 90 GR

This product is not available in this quantity

AED24.50

Italian Extra Virgin Olive Oil Gold Wrap 750 ML

This product is not available in this quantity

AED48.00
Products of the recipe