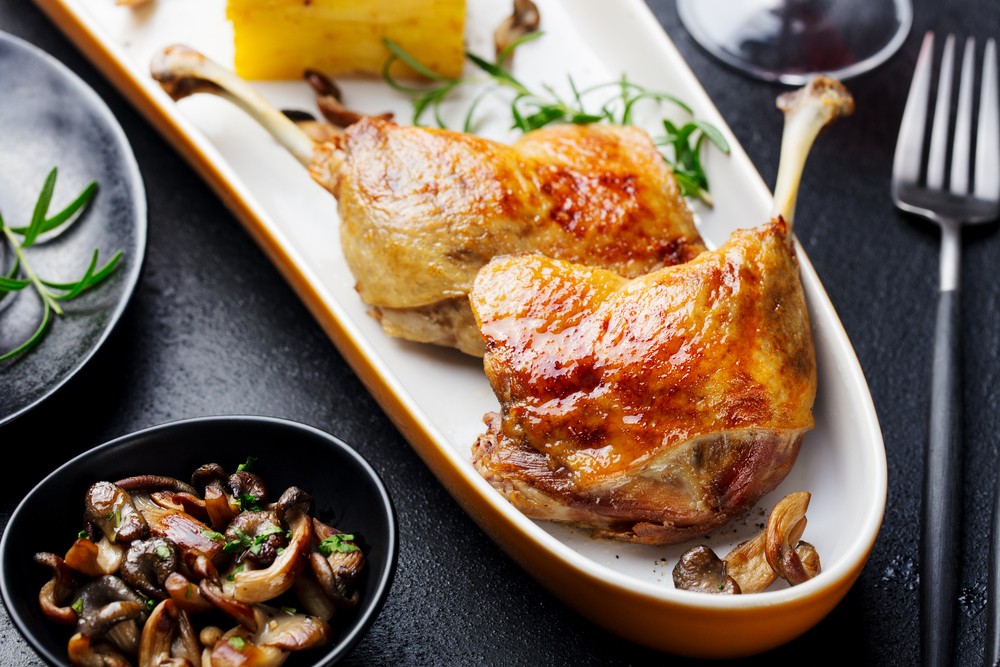 Braised Duck Leg with Shallots
Easy - 10 Min
style

Dish type:

Lunch & Dinner
poll

Difficulty:

Easy
access_time

Preparation time:

10 min
timer

Cooking time:

65 min
place

Region:

France
Preparation
• 2 Duck Legs Ernest Soulard 

• ½ Onion, Finely Chopped

• 2 Pink Garlic cloves, 1½ crushed

• 75ml Non-Alcohol Syrah Grape Juice

• 1 Green Orange, zested and ½ juiced

• 1 tbsp Tomato Puree

• 1 Bay Leaf

• 1 Tbsp Colombino Virgin Olive Oil

• 30g President Unsalted Butter

• 2 tbsp Balsamic Vinegar Modena IGP

• 6 Finely Chopped Onion Shallots

• 1 tbsp Finely Chopped Endive

Steps:

1) In a non-stick pan, heat 1 tsp oil over medium heat. Season the Duck Leg by Ernest Soulard and cook for 3–4 minutes on each side. Remove and set it aside.

2) Cook onion for 3 to 4 minutes until golden. Add the crushed garlic, wait 10 minutes, and then add the Syrah grape juice, orange zest, tomato puree, and bay leaf. Season and bring to a boil.

3) Return the duck legs to the pan, cover and cook on a low heat for 1 hour, or until cooked through

4) In the meantime, cook the shallots. Melt 20 grams of butter in a small pan over a low heat. Stir in 1 tablespoon olive oil, 5 tablespoons water, and 1 tablespoon vinegar. Season to taste. Cook the shallots for 30 to 35 minutes, stirring often, until tender.

5) Pre-heat the grill on high. Place the duck on a rack and grill for 2-3 minutes until crisp.

6) Meanwhile, bring the sauce to a boil, add the 10g butter, and cook, stirring often, until reduced by just over half.

7) Chop the remaining garlic finely and mix with the orange zest and endive. Pour the sauce over the duck and top with the parsley mixture. Serve with sticky shallots.
Ingredients
Quantity
Price

Frozen Duck Leg 350 GR

This product is not available in this quantity

AED28.00

Organic Tomato Puree 700G

This product is not available in this quantity

AED11.03

Colombino Italian Extra Virgin Olive Oil 250 ML

This product is not available in this quantity

AED22.00

Organic Rough Cut Potatoes 450 GR

This product is not available in this quantity

AED25.50

Bytewise Organic Bay Leaf 50g

This product is not available in this quantity

AED7.50

Onion Cévennes (Sweet) +/- 500g

This product is not available in this quantity

AED26.00

Pink Garlic +/- 250 GR

This product is not available in this quantity

AED27.00

Orange Green Skin +/-1KG

This product is not available in this quantity

AED55.00

Brussels Sprouts / 500G

This product is not available in this quantity

AED17.00

Carrot Orange +/-1Kg

This product is not available in this quantity

AED39.00

Out of stock

Asparagus Green / 420g

This product is not available in this quantity

AED37.00

Balsamic Vinegar Modena IGP Metista 250 ML

This product is not available in this quantity

AED29.80

Out of stock

Unsalted Butter Roll 250 GR

This product is not available in this quantity

AED15.00

Endives +/-500g

This product is not available in this quantity

AED25.20

Shallot Banana +/-250g

This product is not available in this quantity

AED9.00
Products of the recipe