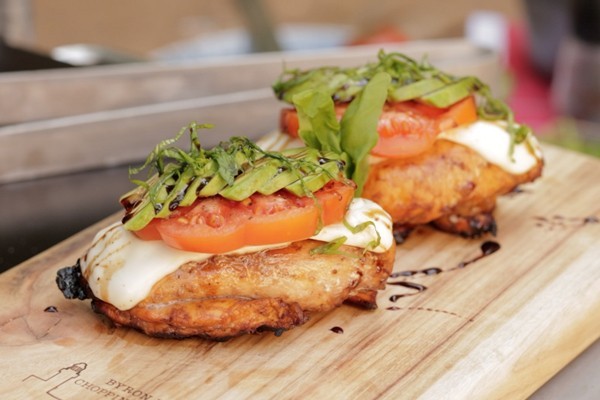 Californian Chicken
Easy - 20 Min
style

Dish type:

Meat & Poultry
poll

Difficulty:

Easy
access_time

Preparation time:

20 min
timer

Cooking time:

40 min
place

Region:

USA
Recipe offered by Philippe Morbelli. Thanks to him!
Preparation
Preparation: Follow our easy steps to perfectly cook your Californian Grilled Chicken.

Recipe Ingredients:

- ¾ Cup Balsamic Vinegar

- 1 tsp Fresh Grated Pink Garlic

- 2 tbsps of Honey

- 2 tbsps of Extra Virgin Olive Oil

- Salt & pepper to taste

- 4 Corn Fed Chicken breasts

- 4 slices of Mozzarella

- 4 slices of Avocado

- 4 slices of San Marzano Tomato

- Few Tarragon Leaves for Garnish

- Balsamic glaze, for drizzling

Cooking steps:

*Preheat your grill

1. Combine balsamic vinegar, honey, olive oil, salt, and pepper in a small bowl to create a delicious marination. Marinate your chicken for 20 minutes or, for a more intense flavor, overnight.

2. Set the grill to medium-high heat. Cook your chicken for at least 8 minutes per side until it is golden brown and charred.

3. As your chicken is cooked on one side, turn it over and top it with Mozzarella slices, avocado, and fresh San Marzano over it. Place the grill cover on top to melt the cheese, which is absolutely divine!

4. Garnish your appetizing corn fed chicken breast with the tarragon or the balsamic glaze, as desired.
Check out the video of this beautiful recipe prepared by our Chef:




Ingredients
Quantity
Price

Avocado +/- 500g

This product is not available in this quantity

AED20.80

Big San Marzano Tomatoes +/- 500g

This product is not available in this quantity

AED28.00

Mozzarella mini balls 500 GR

This product is not available in this quantity

AED25.50

Honey Acacia 250 GR

This product is not available in this quantity

AED26.00

Colombino Italian Extra Virgin Olive Oil 250 ML

This product is not available in this quantity

AED22.00

Balsamic Vinegar of Modena 250 ML

This product is not available in this quantity

AED37.50

Pink Garlic +/-250 GR

This product is not available in this quantity

AED27.00

Big San Marzano Tomatoes +/- 500g

This product is not available in this quantity

AED25.00

Tarragon 100g

This product is not available in this quantity

AED11.00
Products of the recipe